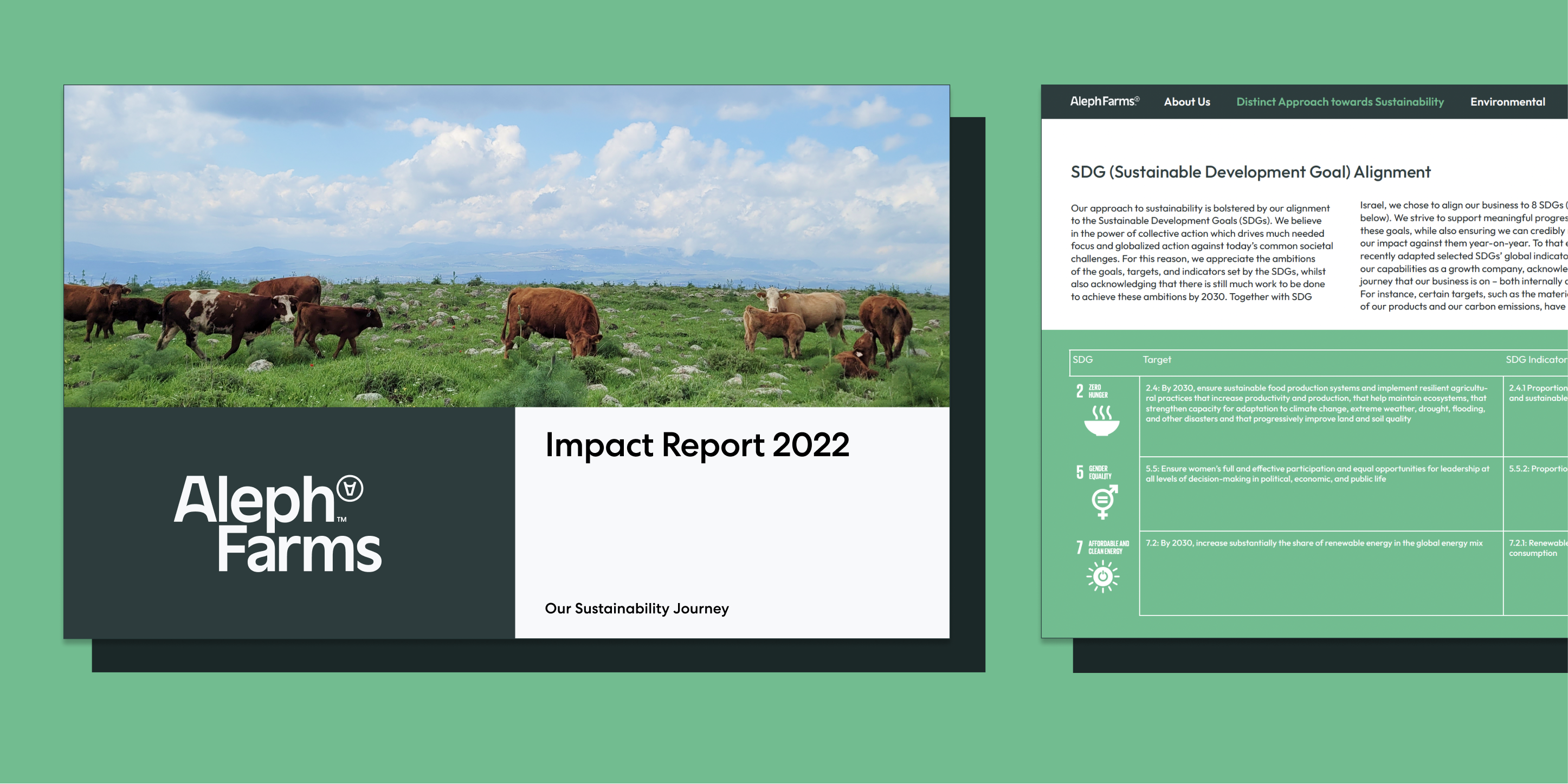 We are excited to announce that Aleph Farms has published its first Impact Report, which provides details on the company's continuous sustainability journey from our establishment in 2017 through the end of 2022. We developed the report in coordination with sustainability consultancy Anthesis, which also helped us complete a materiality assessment last year. 
Sustainability is core to Aleph Farms' mission, which is to support a just and inclusive transition to sustainable and secure food systems. Throughout our pre-commercial stage as a company, we have prioritized building sustainability into our product strategy, business model, partnerships, and operations. This report outlines how a comprehensive sustainability model – upheld by the pillars of social, environmental, economic, and health & nutritional sustainability – advances our mission and stands to deepen our impact once we are commercial later this year.
Aleph Farms believes in communicating ESG-related data and doing so in a transparent manner. In accordance with this belief, we have aimed to align our report to the international best practice framework established by the Global Reporting Initiative (GRI), noting specific sections of the GRI standard throughout the report.
"As a leader in sustainability and cellular agriculture, it is imperative that we practice transparency, which is indispensable for cultivating trust with stakeholders," said Dr. Lee Recht, VP Sustainability at Aleph Farms. 
"In order to preserve natural resources for future generations and to contribute to both the mitigation of and adaptation to climate change, we must ensure that our business itself does not exacerbate negative impacts on the climate," said Didier Toubia, CEO and Co-Founder of Aleph Farms. "We are confident that by communicating key elements of our sustainability journey, we can continue to inspire and expand our ecosystem and to turn the future that we envision into a reality."
Aleph Farms plans on publicly reporting its progress on impact on a biennial basis. Discover our 2022 Impact Report via our sustainability page here.