With the launch of our space mission just a few days away, Aleph's space research team is in Cape Canaveral, Florida, making the final preparations for our experiment as part of the first, all-private, commercial mission to the International Space Station (ISS). The launch is currently slated for April 6.
Cow cells grow and mature into the building blocks of cultivated steaks 
During the Rakia Mission, we aim to better understand the effects of microgravity on two basic processes responsible for muscle tissue formation. These processes include proliferation and differentiation of cow cells into the building blocks of our steak.
The photo below shows Dr. Neta Lavon, our CTO, and Dr. Zvika Tamari, our Head of Space Research, removing cryovials from the liquid nitrogen tank that we shipped with our cow cells from Israel to the Space Life Sciences Laboratory (SLSL). This research lab was developed as a partnership between NASA and the State of Florida, and is located at the exploration park near the Cape Canaveral launch site.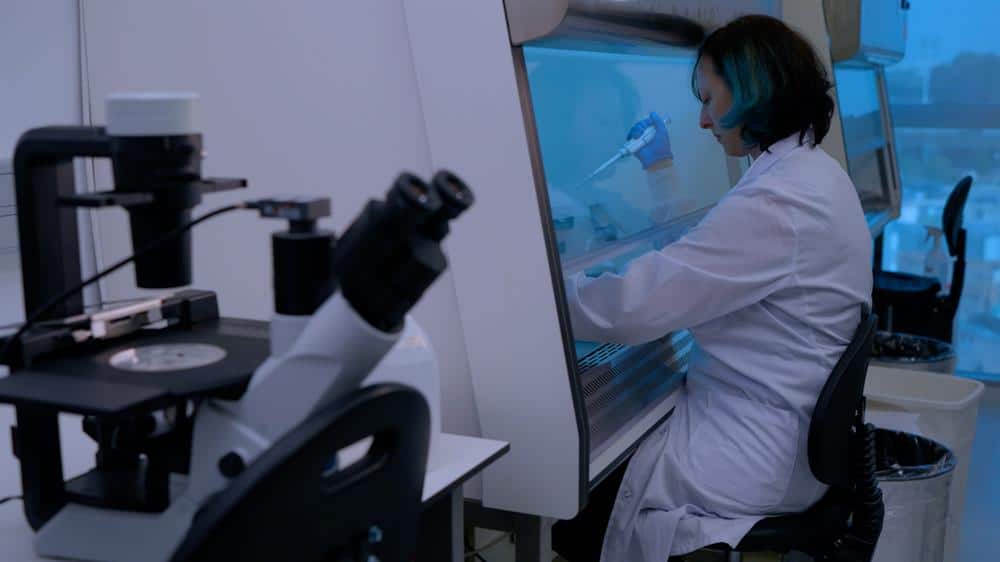 Lavon and Tamari have diligently thawed our cells, and once the required number of cells is reached, they will load them into SpacePharma's SPAd system. This system, developed by our partners at SpacePharma, integrates and automates laboratory techniques to grow cells in a microfluidic device, called a Lab-on-a-Chip. It has multiple pumps, valves and waste reservoirs that automatically replace our growth medium, a nutrient-rich feed, that helps our cells grow and mature into the cells that build the muscle tissue.
Our Space Research team has worked closely with SpacePharma's mission experts to define solid preflight protocols that can sustain a late cargo loading. It is a state-of-the-art technology that requires a gentle treatment for the cells, along with power supply for the mission's pre-flight preparations.
Cow cells orbit Earth 420 km above the surface
After SpacePharma's SPAd system is loaded with our cells, our team will hand it to Eytan Stibbe, the second Israeli to orbit and the first to fly to the International Space Station. Stibbe, along with the rest of the Axiom-1 crew, will fly for a 10-day mission on a SpaceX Dragon capsule that departs from Cape Canaveral, Florida, using a Falcon 9 rocket.
From there, the spacecraft will spend around two days in transit and dock to the forward port of the United States Harmony module, also known as Node 2. The crew will spend eight days aboard the International Space Station which orbits at an average altitude of 227 miles/420 kilometres above Earth.
Stibbe will transfer the SpacePharma Lab-on-a-Chip device into the ICE Cubes platform in the European Columbus Module, and connect it to electric power and monitoring systems. The ICE Cubes service was enabled by a partnership between the company Space Applications Services headquartered in Belgium, and the European Space Agency (ESA), to provide direct, fast-track and commercial access to space for innovative research lab devices. The ICE Cubes platform allows for real-time interaction capability based on the data and images coming from the Lab-on-a-Chip device.
Lavon and Tamari will interact with SpacePharma's SPAd system directly from the ground and receive real-time data about its progress. A parallel system will carry out the same experiment on Earth, in full gravity. This experiment will serve as our control group.
From Formula One to mainstream operations
Following the crew's time on the ISS, the spacecraft will undock and return to Earth via a splashdown in the Atlantic Ocean. Stibbe will then deliver the system to our team, and our cells will be returned to our headquarters in Israel. The analytical methods team at Aleph Farms will then analyse the results of our experiments.
Understanding processes in such an extreme environment, like space, will allow us to eventually develop an automated, closed-loop system that can produce steaks during long-term space missions. Similarly to car manufacturers and Formula One, in space we are developing the most efficient processes under the toughest environments. The processes we are validating in space can then be transferred to our mainstream production on Earth to help us increase efficiencies, and reduce our environmental footprint. Our space program will ultimately help us develop more sustainable and resilient food systems anywhere.